🏀 Meta getting dunk on live VR show, Johnny Depp launches celebrity NFTs, and YouTube's "unimaginable opportunity" in Web3: Content3 Weekly Wrap 🍽

I hope you've had a wonderful week my frens!
Please find below the stories that have piqued my attention in the world of NFTs, the Metaverse and the future of content.
YouTube boss gets gassed about Web3

After last week's news that infamous YouTubers the NELK boys had raised $23m by issuing an NFT membership token, it seems fairly obvious that their key platform partner YouTube has been working on adding NFT functionality.
In her annual letter to creators, YouTube CEO Susan Wojcicki was effusive this week about Web3:
"The past year in the world of crypto, nonfungible tokens (NFTs), and even decentralized autonomous organizations (DAOs) has highlighted a previously unimaginable opportunity to grow the connection between creators and their fans"
It seems blindingly obvious that upgrading YouTube's product so that talent can issue their own NFTs could be a game-changer.  With 2bn active users per week, uptake of Web3 by such a behemoth would likely be transformational.
Wojcicki also highlighted YouTube's growth in paid memberships in 2021:
"Last year, YouTube Channel Memberships and paid digital goods were purchased or renewed more than 110 million times."
And this subscription functionality could be expanded out into a tradeable membership token, bought and sold on YouTube.
It also opens up the fascinating potential that the ownership of videos and channels on YouTube could be managed via DAOs and NFTs.

At present, videos on YouTube are presumed owned by the entity that uploads them, be that an organisation or individual.  
YouTube own none of the IP in the videos themselves. They simply take a large percentage of the Google-sold adverts that appear on each video, splitting their income with the presumed owner of each video.
YouTube behaves like a landlord that doesn't own its properties. They turn over a huge amount of advertising income (rent) but don't benefit when their suppliers cash out by selling their channels and videos (building sales).
If YouTube offered native NFT functionality that allowed users to trade ownership in videos, this would offer a multi-billion-dollar growth opportunity.
The challenge is huge - YouTube's tech stack is gigantic. Plugging in the increased complexity of a blockchain exchange into their existing Web2 products would be a significant achievement.
However, if they don't adapt, YouTube risk missing out on a huge revenue bounce, and also offer clear water to disruptors in the space.
Companies like Spotter are already buying up hit videos from under YouTube's nose:
So, as a huge incumbent, will YouTube be brave enough to disrupt itself? And can legacy Web2 giants really embrace the decentralized philosophy of Web3?
I can't wait to see how this one develops!
Johnny Depp turns NFT artist

It has been a challenging few years for the Pirates of the Caribbean star, having lost his high profile libel case.
And instead of jumping back into blockbuster movies, he has decided to reveal his artistic creations to the wider world:
"I've always used art to express my feelings and to reflect on those who matter most to me, like my family, friends and people I admire. My paintings surround my life, but I kept them to myself and limited myself. No one should ever limit themselves."
The legendary actor has just released his first NFT collection of portraiture, featuring subjects such as Elizabeth Taylor, Heath Ledger and Marlon Brando.
And it seems that these initial 11,111 tokens might be just the start of Depp's journey into Web3:
"Having the opportunity to salute my supporters and support the charities that have been so important to my family is an incredible gift. I hope we can create a new community of friends around these NFTs. My involvement in the NFT space has just begun."
I wonder if other high profile celebrities will reveal their artistic genius any time soon?
Meta jumps into VR shows with live dunk Oculus event

It was only a matter of time before Meta started producing high-value content in VR for their Quest headset owners.

This week the company formerly known as Facebook premiered a new project with Overtime Elite, an exciting basketball startup backed by the likes of Jeff Bezos.
Whilst it makes a great deal of sense for Meta to partner with exciting new brands that resonate with younger audiences, it is interesting that this deal was with a disruptor brand, rather than with the NBA.
With several shows, this partnership will help the Meta team figure out how to deliver live VR for their super users.
And it will be interesting to see if they will push the boat out and feature must-have content rather than nice to have shows.
There's a quick review here: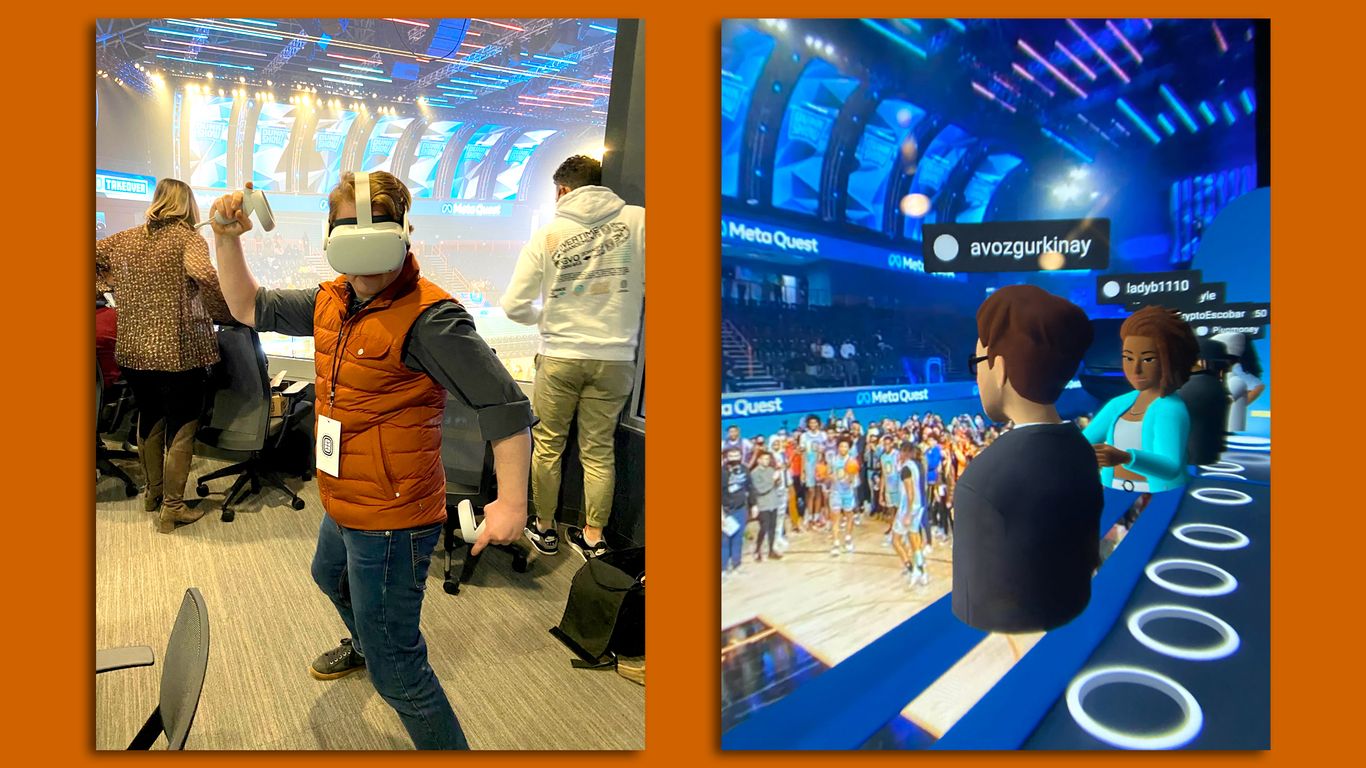 Hope you all have great weekends! Remember, WAGMI 🥰